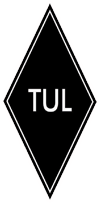 hand-built microphones, audio excellence
TUL Microphones are hand-built using discrete components, including transformers, which leads to better isolation and less noise. Unlike modern condenser mics that are often hard and brittle, TUL mics are extremely smooth, round and EQ-friendly.
Retro-styled by design, the vintage appearance of TUL Microphones gives the impression of years of studio-use and pays tribute to the aesthetics and tradition of the 60's series of mics by Neumann and AKG after which they are modelled.