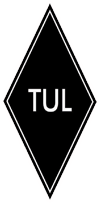 Features, reviews & Interviews


"On The Record: Tracer"
Guitarist Magazine (UK) May 2013
A feature and album review for the band Tracer - the G12s are shown in some of the photos.
View scan
www.guitarist.co.uk





"A legend is born – Tully McCully and his amazing TUL microphones."
Cape Audio College Blog (RSA) Oct 2011
Blog post about a Tul microphone demonstration at the CAC.
Read the article over here.
Gallery